Helping you engage with the real Shetland
James Tait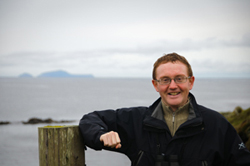 Shetland: What does the word conjure up for you? Little ponies, Fair Isle knitting, seabirds or traditional music perhaps. For James Tait, Shetland is home and it has been for his family for as long as anyone can remember. James lives in Ireland (originally "Ayreland), a crofting township in the Bigton area and is the 6th generation of his family to live there. The community in Ireland have a panoramic view overlooking the famous St. Ninian's Isle where a hoard of silver treasure was found in 1958.
The Tait family have been crofters for generations and James is keeping up the tradition by running the family croft with his father and brother, where they have a flock of about 150 sheep. James has keen interests in wildlife and local history and enthusiastically brings his knowledge into his tours and walks. "I love being outdoors and to show visitors around Shetland is a pleasure," says James.
James came back home to work after studying at the University of Dundee, starting out in accountancy and then eventually ending up as a self employed tour guide! James is currently treasurer and past chairperson of the Shetland Tourism Association which represents the views of a wide variety of tourism related businesses.
Island Trails founder, Elma Johnson (1943-2012)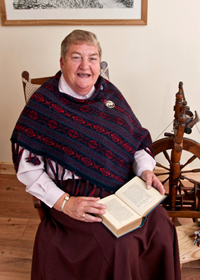 James has been managing Island Trails since 2012, following the death in January 2012 of Elma Johnson, who founded the business. Elma was nationally renowned as a story-teller, historian and guide. Building Island Trails from scratch, she was awarded a visit Scotland 4 star tour grading. In 2001 Elma was delighted to be a finalist in the Scottish Thistle awards! Always keen to pass on her knowledge, she was delighted when James joined her team in 2009 and gradually took on more of the work as her health declined.
James feels privileged to have worked with Elma and to have learned so much from her. "One of the most important things I learned from Elma was great customer service. She was passionate about giving her customers the best possible experience during their visit. Her welcome and hospitality was second to none. Although nobody can fill her shoes, I'm determined to continue using the knowledge and skills she taught me as Island Trails adapts and changes to new trends in the tourism market."